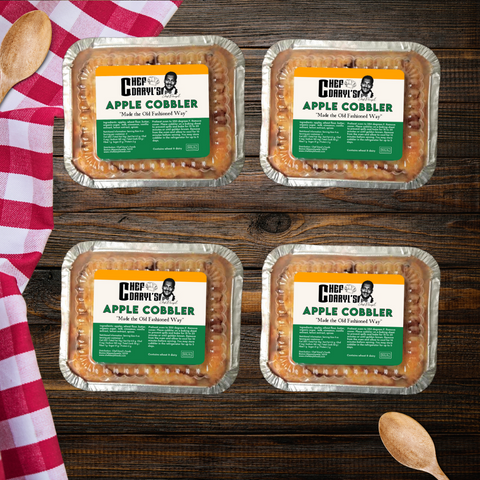 Chef Daryl's Food's
Chef Daryl's Apple Cobbler Bundle
4 (1lb) Cobblers will be included in this bundle.
Apple Cobbler, just like grandma use to make!
The succulent smell of apple, cinnamon, nutmeg, and vanilla will leave your nose intoxicated - a divine southern Apple Cobbler topped with a luscious golden brown lattice crust made the traditional way. Our delectable apple cobbler is one granny would shout about from the rooftops! It's the perfect addition to any occasion - whether you're looking to treat your guests to a decadent dessert or simply want to treat yourself. One bite and you'll see why it's the apple of Chef Daryl's eye!
Fresh and Delicious 
You don't have to wait for a special occasion to savor our scrumptious apple cobbler - we'll deliver it right to your doorstep, always fresh.
Optional: Try it warm with vanilla ice cream or whipped cream! With or without, our cobbler will surely satisfy your taste buds.
Preparation instructions
Preheat oven to 350 degrees F. Remove cover . Place cobbler on a baking sheet to prevent spills and bake for 15 to 20 minutes or until golden brown. Remove from the oven and allow to cool for 10 minutes before serving.
You may store cobbler in the refrigerator for up to 5 days. Due to variations in equipment and/or temperature, cooking times may require adjustments.
Ingredients: Apples, wheat flour, butter, organic sugar, milk, vanilla extract, lemon extract, spices
Contains wheat and dairy 
Size: 16 ounces